At the Best TuitionTeacher.com, we provide opportunities to home tutors to connect with the students in their local area. We are a group of 50,000+ home tutors and 20,000+ satisfied parents/students in Many cities of India for different academic and professional subjects.
Here's how it works for tutor
Create Tutor Profile
Become a Teacher by creating your profile here and tell us about yourself, your skills, subject expertise, qualifications, teaching ability and experience. Be sure to provide as much information as you can in your profile so that we can speed up the verification process and your profile starts showing up in the right spot when parents and students are searching for home tutors on our website. Tuitions Details Wouldn't Shared with Teachers Without Required Documents Upload.
Apply for Tuition-jobs
Once your Teacher profile is completed, you can start browsing our latest home tuition jobs page and start applying for the tuition jobs that best fits your skills, favourable location, class and subjects. After Apply for Tuitions Teachers Would get Tuition Details in Applied Section, then Without wasting Time Teachers Have to Call to Parents and Fix Demo/Trial Class. Teachers Have to Update Us Every Updates Immediatly.
Get Verified member
You need to upload certain documents such as Address proof, ID proof, Class 10th Marksheet, latest educational certificate, etc. at the time of registration at BestTuitionTeacher.com. This Verification is done to make sure only the right and eligible home tutors get connected with us and become a part of our network. The verification process builds more trust among teachers, parents and students.
Communicate with Parents and fix Trial
Once Teacher have Applied for particular Tuition-Job then they have all detail of that tuition in Applied section. Now Teacher have to contact to the parents As Soon As Posible and fix the trial/Demo Class.
In 50% Commission Plan : Teachers Have to Update Us Every Updates Immediatly.
In Commission Plan: Once Details of Tuition Shared with Teacher then Teacher have to manage that Tuition with parents. bureau would not interfare with Any activity.
Start Tutoring and Grow your income
If parent like the demo session and vice versa, you can continue tuition and start earning.
In 50% Commission Plan : we will Collect First Month Tuition Fees in Our Hand after that Teacher's Part will shared with Teacher. In Commission Plan: you have Already taken subscription plan then you will take fees directly in your hand and Teacher Have Responsibility to Do That Tuition Honestly. Well wishes To All Teachers.
Process For Subscribed Teachers.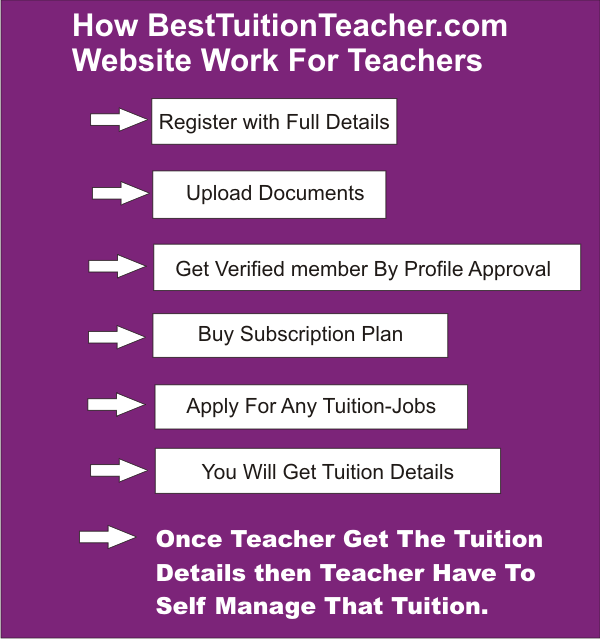 Start Applying for Tuition Jobs